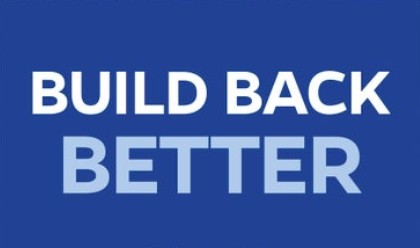 ReConstruction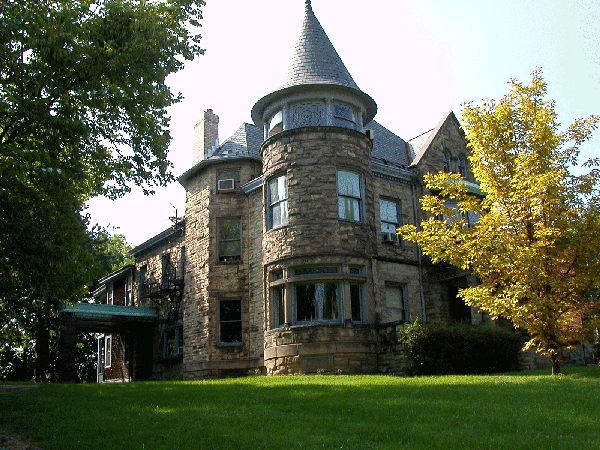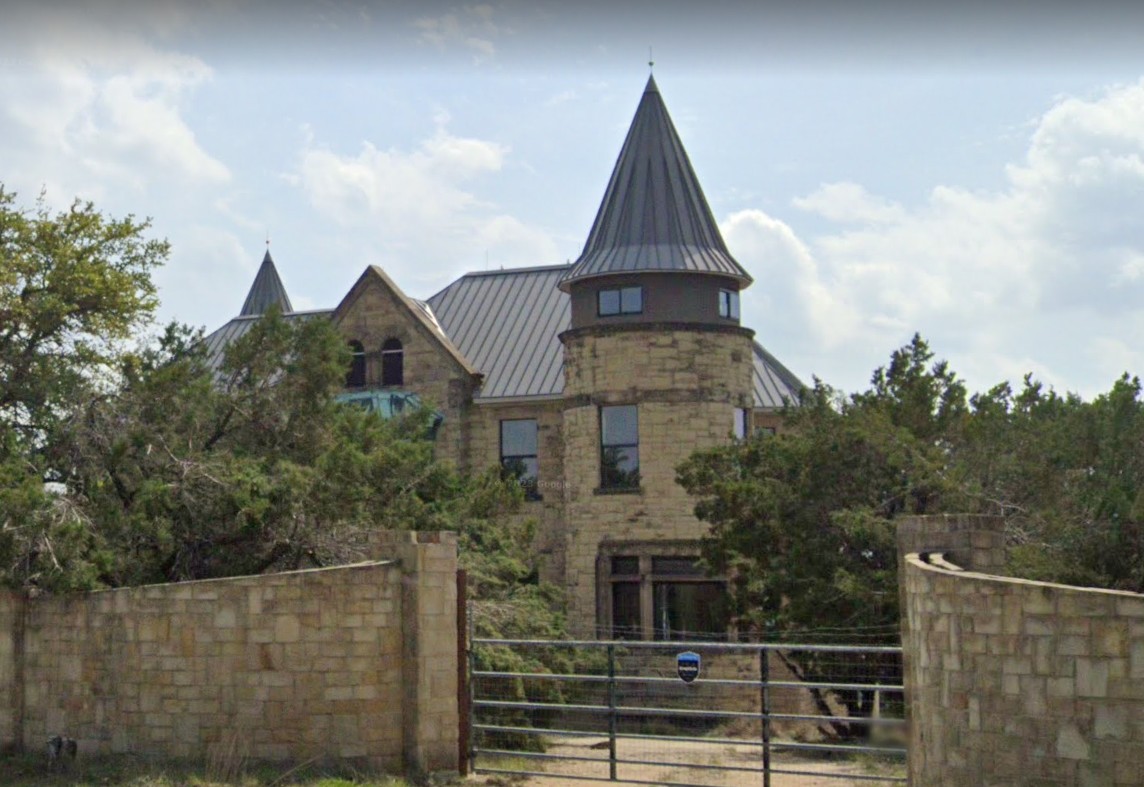 The 1885 Queen Anne from Cincinnati was ResErected near Austin.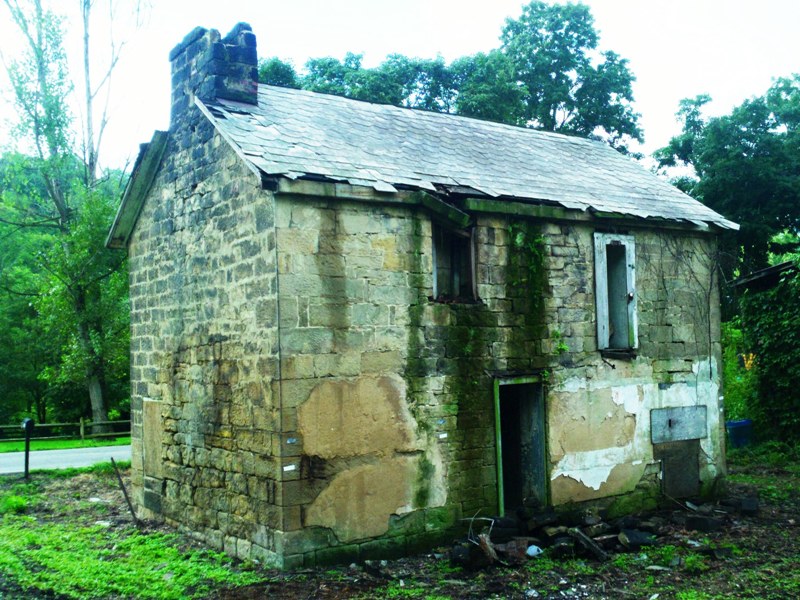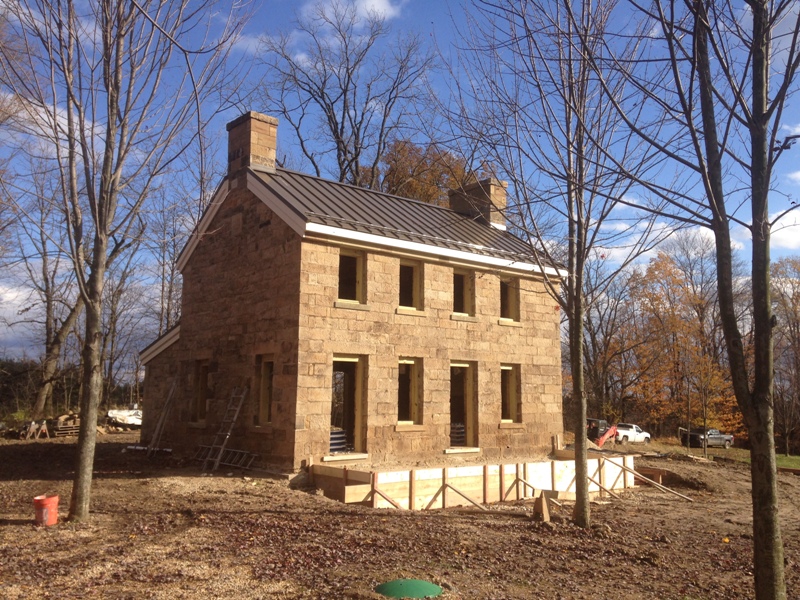 The 1830 American Folk was ResErected in Ohio.
---
>>> Rebuilt - Austin Texas
Kemper is being rebuilt outside Austin. The building has been completed and interior work is ongoing. Here is a satellite view of the house.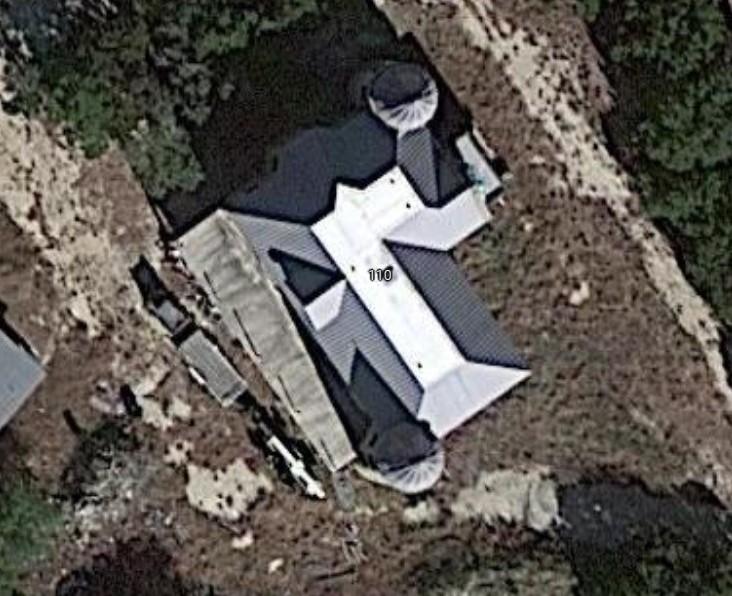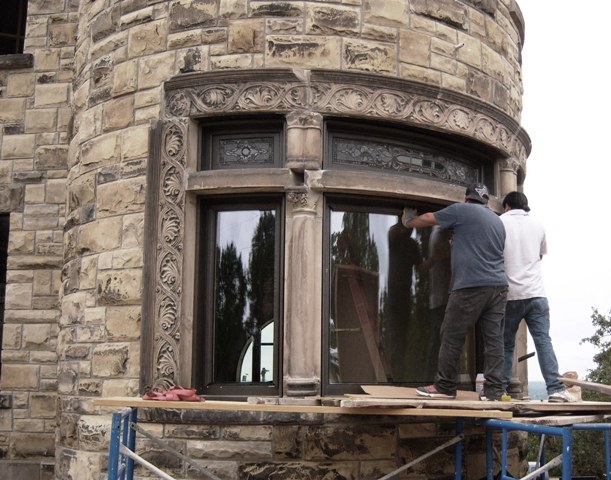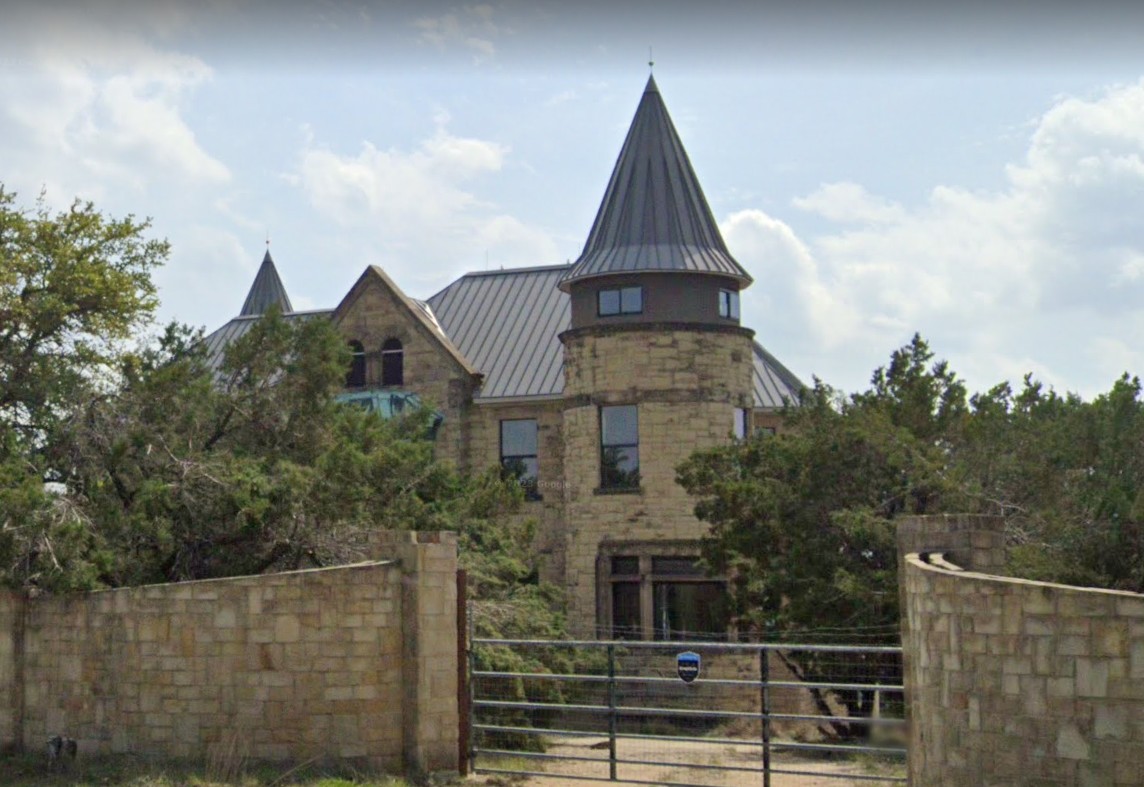 The Kemper house now sits high in the hill country outside Austin. The house has two towers and a 50 mile view of the Blanco River valley.
In Ohio Reconstructed in Ohio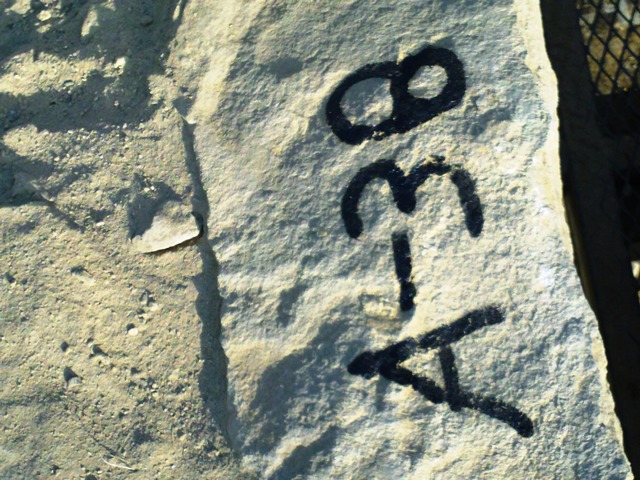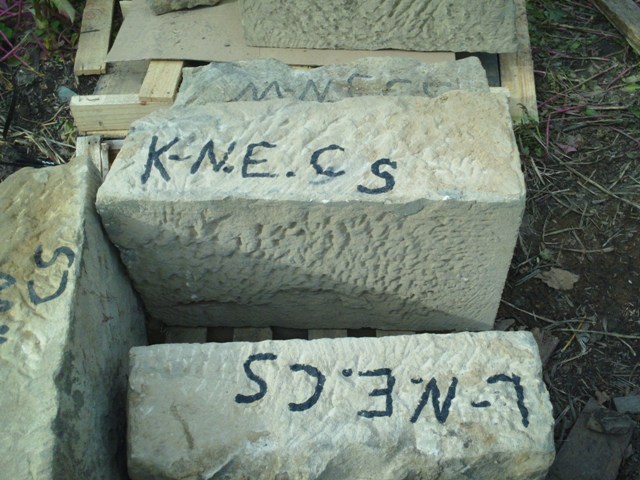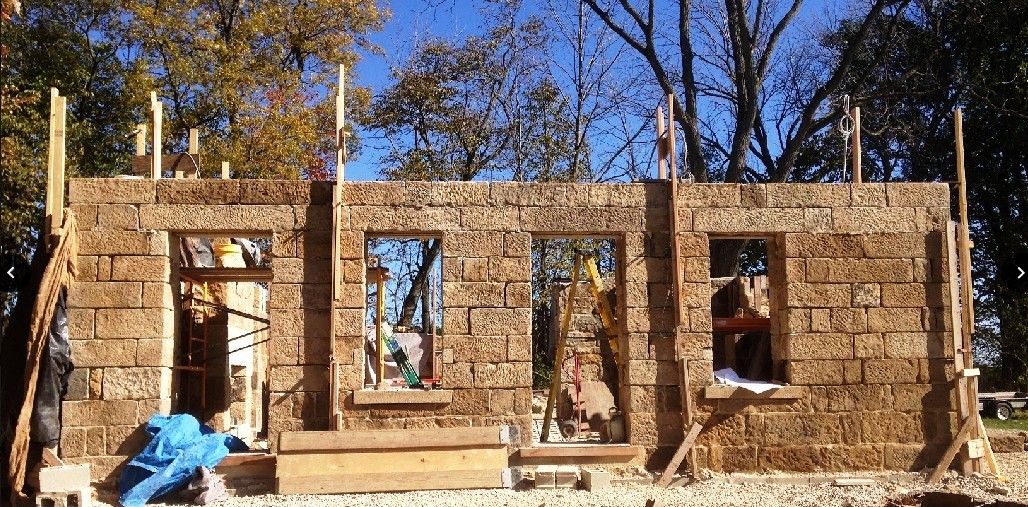 Tthe beauty of a hand cut sandstone wall
Every stone is in its original position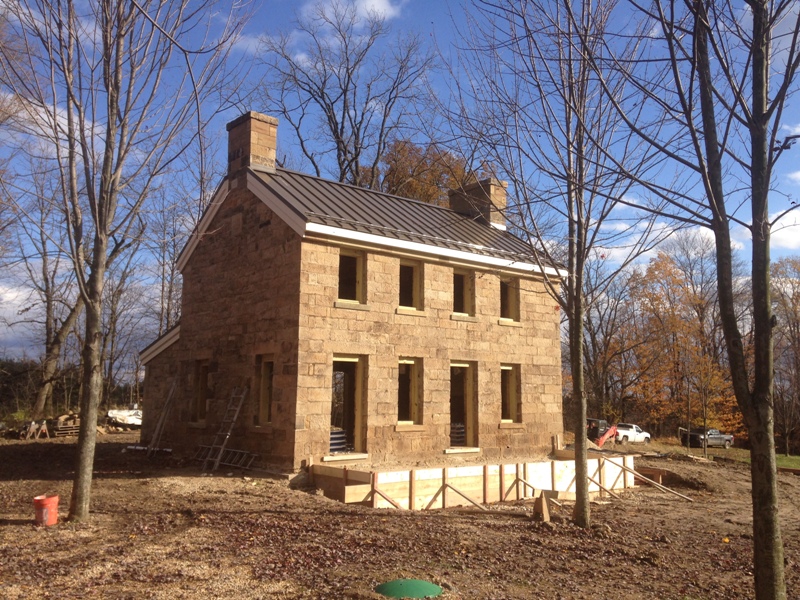 House is Complete. ResErected -- Fall 2018.
---
Two recent technologies make moving these mansions practical - - -
Individual Stone Identification
The finest architecture of America's first 200 years was built with quarried natural stone … limestone, sandstone, marble, granite. The endangered mansions we offer are of sandstone – durable and easy to work with and cut precisely. The fine masonry work on these houses is 'Random Ashlar' which rendered precise reconstruction prohibitively costly until recent technological advances in imagery, measurement, and recovery.
The facades our stone mansions are constructed with rock faced random Ashlar pattern stones. Ashlar is the finest masonry of dressed stone, precisely cut on faces adjacent to other stones, and is capable of very thin mortar joints between blocks. A random ashlar pattern contains stones of 3 to 5 different thicknesses and lengths laid in a random pattern limiting shared vertical mortar joints to no more than 2 or 3 stones. This provides great strength to walls. Successful reconstruction depends on careful documentation of individual stones. Stones must be placed in the same position so walls, windows, quoins, and other openings are in their original positions.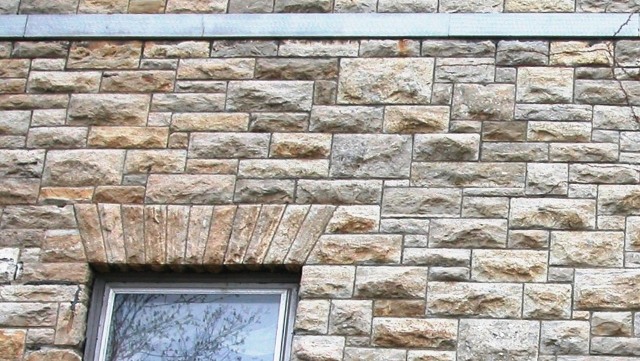 To achieve this, each stone must be identified. Disassembly starts at the top of each wall, exposing the top surface of each stone. Numbering the top surface provides identification and orientation of the six sides of each stone. As stones are recovered, they are palletized in the order of recovery, so stones are stacked in the order needed for relaying. Twenty to fifty stones are in each pallet, weighing 2,000 to 2,500 pounds. Active RFID tags are attached to each pallet so that individual pallets can be quickly located amoung hundreds of pallets containing 8,000 stones needed for these large buildings. All data is stored in a Microsoft Access database ... we know where every stone is.
We have experimented with several modes of numbering stones, and plan to use a computerized ink jet handheld printer. Here is a video of the tool in action.
We have used manual numbering on the rough surfaces of natural stone. Photographing, numbering, and mapping entire house. Works fine.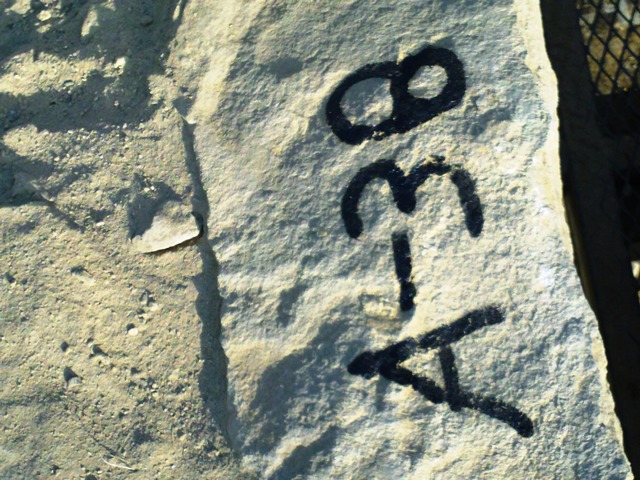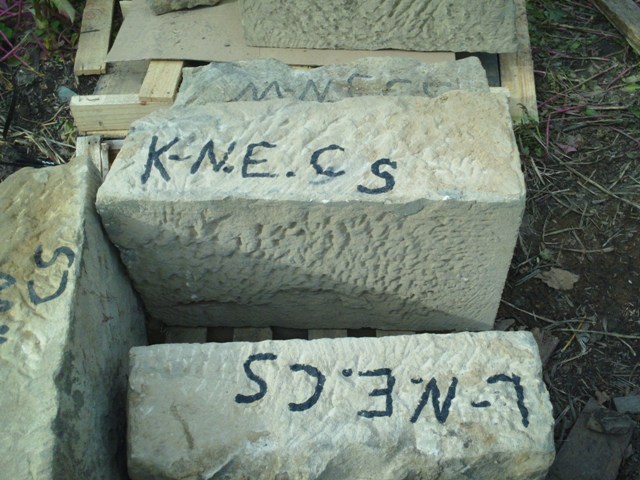 Laser Measurement and Imagery
Laser scanning provides a new approach to disassembly and reconstruction of endangered stone buildings.
Reconstruction of the stone façade requires precision measurement and individual stone imagery to place each stone in its original position, resulting in precise duplication of the original structure. Because all of the data is digital, buildings can be redesigned in leading architectural software … BIM, HD-BIM, Revit, et al.
Laser scanners are capable of astonishing accuracy and detail. Every scan measures millions of points and each point knows its precise XYZ position. Collectively, these points constitute a three dimensional "point cloud" that can be navigated, drafted, and modeled in CAD and BIM applications. A point cloud is a dimensionally-correct, digital copy of the building itself.
The application of laser technology to AEC has only become feasible in the last ten years. Prior methodologies of detailed documentation of structures required an on-site labor intensive physical survey using electronic distance measurement devices with hand-held tools. Now, Laser scanning captures so much more information in so much less time that the costs of a building survey is 1/3 of the cost of manual methods while providing the 3D location, orientation, measurement, texture, and color of the objects scanned.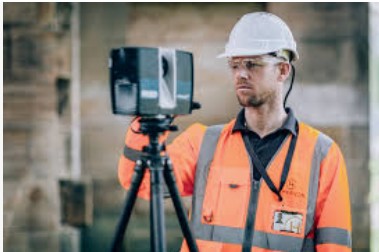 The technique requires a scanning head mounted on a surveyor's tripod. The scanner spins at very high speed while a low-energy laser fires a reflecting beam with extraordinary precision, recording up to 1 million points a second with a typical spacing of 1/8 inch. There might, for example, be 20 million points in a survey of the front facade of a modest cottage. The data effectively describes the surface and is known as a point cloud. The point cloud could contain between one and ten billion points describing the building surfaces inside and out. There will be terabytes of data in a large structure scan.
The architecture industry has embraced laser techniques reducing both the costs and the risks associated with site work. Structures need to be scanned inside and outside, and when significant data is revealed in the process of disassembly. The time needed to record data on one of our large mansions can be as little as 3 days.
The benefits are significant when considering large building volumes and spaces where detail at height is important, such as cathedrals, tall facades and historic civil engineering structures. There is usually no need to gain access at height in order to register dimensions. The precise shape of a historic vault, a bulge in a wall or the irregular spacing of timbers across a ceiling can be measured from ground level.
Its principal advantages over previous methods include:
<![if !supportLists]><![endif]>
Recording detail from a distance. The shape and condition of decorative stonework, corbels, lintels and other features can be reproduced equal to or better than with close physical measurement.

Inspection in low light The process is not dependent on the human eye so can be carried out at night when a building or site is unoccupied, or with very low levels of internal light.

Access to complete digital imagery from desktop to smartphone. AEC professionals have access to all the gathered data in scalable form on their own computers, viewing locations, dimensions, surfaces, color and textures in a 3D environment.
Scanning is particularly suited to recording highly irregular surfaces such as timber frames and stonework. Individual components can be clearly identified from the scan. it is necessary to use photogrammetry in conjunction with laser scanning to trace brick, terracotta or stonework.
The point cloud is not the only site data that can be recorded while on site. A 360° color photographic image is included with the scan. By combining the digital photo with the scan data the photo itself is scalable.
BIM, Revit, and other AEC software takes the scan data and produces an image of the building on an office PC. This can be rotated, enlarged and interrogated for dimensions and levels. Small architectural details can be enlarged for closer inspection.
When an existing building fabric is to be disassembled, restored, or modified, laser scanning provides the key by which survey data is modeled in HD-BIM. By surface modeling from the point cloud, a historic building can be rendered in the 3D drafting model supporting detailed redesign of the structure.
ResErections combines laser scanning of the original structure with visible numbering on the top surface of individual recovered stones and documents relevant data in an Access database. We then track each palletized group of stones through the logistics systems, storing the stone in a destination site warehouse, and delivering it to the reconstruction site on a just-in-time basis.
ResErections Does Not Reconstruct. The buyer's Architect and Construction Contractors Control all activities at the TO-BE site. ResErections supports the reconstruction by providing on-site computing with Digital Photography, Laser Imaging, and Materials Inventory Control with RFID. The buyer is responsible for all costs at delivery.
We supervise the disassembly at the AS-IS site with a local work crew and 3 full time people, a site manager, an engineer and a documenter on remote projects. The building is exhaustively digitally photographed, and laser scanned. RFID bar codes tags are placed on items and groups of items. We then integrate the data with the buyer's architect's AutoCAD, BIM, and other systems.
The reconstruction crew is managed by an experienced local construction firm employed by the buyer. Laborers, craftsmen, and preservation professionals will be locally employed.
ResErections is a pioneering 14 year old - new kind of business linking independent local architecture, engineering, and construction businesses with similar firms in other localities nationwide. We move houses from Ohio to Texas or New York to Pennsylvania. Every project is new - from and to different towns. We build the supply chain that make this work for each house. Architecture firms in the source city know their design/construction/permit/taxation et al structures, as does the architecture firms employed by the new building's owner at the destination site. ResErections creates the contracts, documentation, coordination, payment, marketing, transportation, legal, insurance. At both ends, local firms handle local commercial relationships and municipal entities to assure that the new owner's property is built.
---
PROFESSIONAL TESTIMONIAL
Gregory P. Luth, Ph.D., S.E., SECB ... GPLA Structural Engineers & Builders. "ResErections saves 19th and early 20th century stone mansions using modern laser scanning and BIM technologies to facilitate deconstruction and reconstruction, moving these magnificent edifices out of the now-decrepit surroundings to sites where their grandeur can be an asset.
This is the sort of development that utilizes creative destruction to save some of our historical architectural heritage, fosters a rebirth of craftsmanship, and mobilizes demand to create a new market. If one were to design one of these houses from scratch, I am sure the wonderful stone would be cost prohibitive.
With HD BIM process combined with their scanning and deconstruction, we can rebuild these wonderful structures anywhere in the country, including in high seismic areas. With modern technologies such as base isolation and fused shock absorbers we can make these virtually earthquake proof, able to survive multiple great earthquakes with minor structural damage.
But that isn't the best part. Using modern gravity structures, we can replace the interior bearing wall and wood floor with long spans that would enable modern open floor plans inside the classic stone façade.
"
---
The projects are expensive because they are large, complex, and deal with big structures that are really heavy stone buildings with the mission of accurate reconstruction. Our daily production management role is to run a Private Internet Microsoft Cloud Network running Microsoft Dynamics AX: ERP systems for real time - on line information and communication from the desktop to the smart phone, and to physically move the house's material, often 800 to 1,200 tons and 20 truck loads. We specialize in the documentation, packaging, and safe shipping of the hundreds of pallets of thousands of pieces from source to a destination a thousand miles away.
We are aware of no other businesses with an inventory of fine mansions and internet based access to a worldwide market that exists for magnificent endangered historic architecture. We maintain an active web site, and publish a monthly email newsletter to thousands of architects, engineers, designers, and realtors.
We are only interested in completely moving entire buildings. Buildings whose value will increase 20-40 times by relocation to suitable vibrant communities. We create a great deal for the buyers, the sellers, the doers, and the public.
As collaborators moving buildings, we recognize that established construction and engineering firms employed by the buyer may have far more professional expertise in construction disassembly methodologies than we do. In most instances, we believe that we can pull together the local expertise to do the work, but the owner's representatives may desire to supervise the entire process. They and local firms that they select may take over day to day engineering operations of the disassembly of the building. ResErections on-site role may be limited to computer systems management and employees capturing data, video, photography, RFID tagging, packaging, and shipping. Roles are negotiable.
Think about the effect of rigorous documentation and item control on the work of reconstruction. Disassembly of a building results in the new site receiving 95% of the material required for reconstruction. Reconstruction of these buildings require that each stone has to be placed in exactly the same location as its original place. We are still experimenting, and learning in the process, but we believe that the actual cost of reconstruction will be very efficient and inexpensive. Because of imagry and RFID, the building trade craftsmen can be delivered materials just-in-time. RFID allows us to immediately access specific stones in one of hundreds of pallets. When the next stone is needed, it can be staged and delivered to the work surface, not before it is needed, and not after. This should be an huge time saver.
Essential to our work is that the new house retain its external beauty, so 100 % of the shell of the house, and inside features like fireplaces, doors, windows and so forth are recovered. Extra reconstruction costs will be from interior redesign and modernization under the control of the buyer and architect. We believe the costs of recontruction will be sharply less that expected. We think that the cost of a moved building will be substantially less than an equivalent new building.
---
Video of the HP rugged tablet ...

Onsite computing is critical to project success. Each stone has to go back in the same place it came from. We have the Laser data. We will be using ruggedized Hewlett Packard tablets with full Windows 10 with data from Laser Scanning, AutoCAD, RFID, BarCode Reader, Photography, Communications, Internet.

---
We have about 30 separate walls to construct. We couldn't have found more complicated walls of stones to disassemble and reassemble. Not one stone in the entire building is square. Often with 5-6 sides. Integration of laser scanning cloud data with analog photographic images is crucial to our process. Below is an example of the technique used by 3D Engineering Solutions to generate image data of each wall of the church.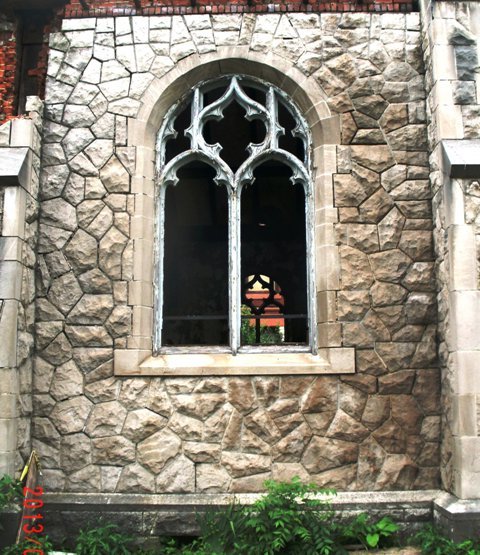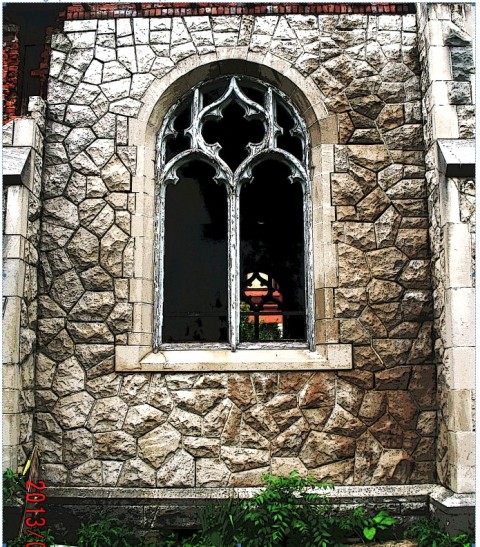 The original photograph Posterize in Photoshop & Heighten Contrast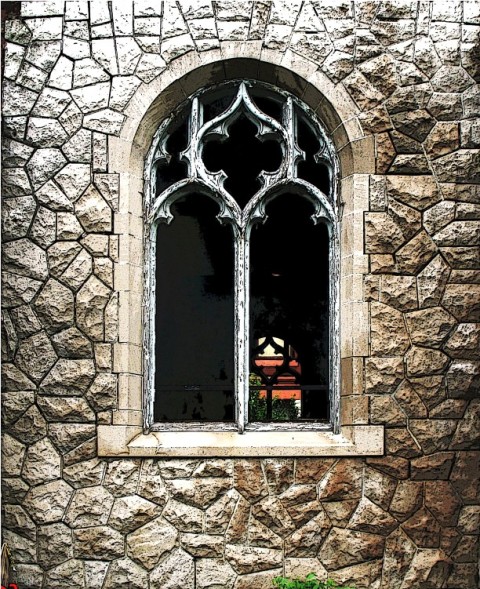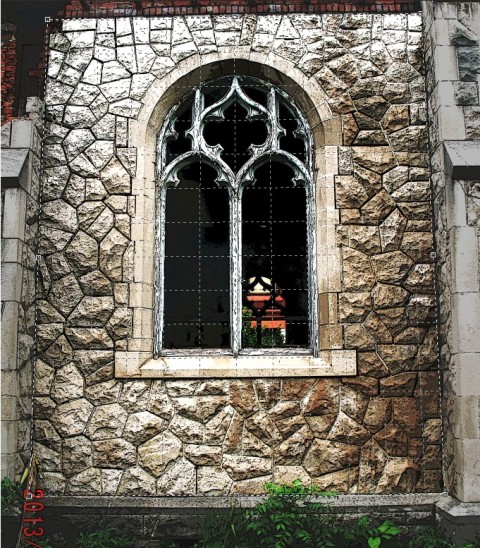 Perspective Crop Point Cloud Final image to scale
Now the sides of the wall are square, and measurable. From the point cloud, the height and width of each wall, and shape of each stone can be measured and applied to the square view of the plane of the wall. Images can be printed to scale
---
Structural Reconstruction
Reconstruction is done by the buyer's architect and local construction firms to modern construction standards. The buyer is responsible for the cost of reconstruction, as this is a matter of taste and meeting local construction and municipal code standards … that is why local architects and construction firms are necessary .. mandatory. We cannot predict what gold bathtubs the new owners might want, and the interior layout could be very different than AS-IS.
The buyer's architect needs to use industry standard software .. AutoCAD, Revit, BIM and other packages. The architect works for the buyer. The entire effort to move this house will be done under the professional guidance of the rebuilt house owner's architects and local construction professionals.
What you get from us is all of the material used to rebuild the mansion, with every stone , beam, joist, 2/4, etc. identified where it needs to go, with the dimensions of all exterior and interior surfaces defined by Laser Scanning to the nearest 1/7th inch. Each house moved will be several thousand individual pieces. Detailed inventory item control is crucial to reconstruction. This house will contain about 8,000 individual components. We are heavily computerized, so all of the stone comes with Terabytes of data, thousands of photographs, video tapes, .. everything we can do.
95 % of the materials required for reconstruction is included in our delivered price, the cost of materials for the reconstructed house will be far less than built from scratch with new materials. Many of the components of the house are unique, and cannot be reproduced with modern materials. Houses constructed in this manner will be environmentally superior, and qualify for US Green Building Council's superior LEED standards (Leadership in Energy and Environmental Design).
While the buyer's architect and construction firms are responsible for reconstruction, ResErections will be intimately involved in planning and supporting reconstruction as required. We expect this to involve onsite employees assisting in locating and staging materials for use in reconstruction.
---
Stereophotogrammetry
Here is a marvelous 3D model of a stone 1815 American Folk house that will let the viewer cruise around the outside of the building. This is a tremendous asset to our process. The models can be imported into CAD, SketchUp, and many other 3D rendering programs where they can be viewed from any angle, measured, and altered.
https://sketchfab.com/models/657c74e504c44d1590aa3fb47bbb918f
This model a creation of Jamie Davis - GIS & UAS Photogrammetry of Ohio Valley Archaeology, Inc.
---
RFID - Radio-frequency identification is the wireless non-contact use of radio-frequency electromagnetic fields to transfer data for the purposes of automatically identifying and tracking tags attached to assets.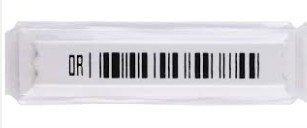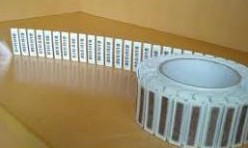 Active RFID tags are attached to each pallet as stones are disassembled. Pallets can be remotely located with readers, and individual stones are numbered to identify the original source and orientation. Buildings that we disassemble will be several thousand individual pieces that must be placed in their original positions
Disassembling a building is in reverse order of its original construction, meaning that the first slate removed from the roof is the last item needed during reconstruction, and the building cannot start reconstruction until the last stone from the foundation is recovered. A big house can be 400 heavy pallets and special containers that will occupy 8-15 thousand square feet of warehouse space storing the several hundred ton inventory. A hand held RFIC receiver is used to remotely locate individual stones in shipping boxes in the inventory of material created in during the disassembly, allowing delivery of the right stone with it's image to the reconstruction craftsmen in exactly the time it is needed and deployed. This Just-In-Time delivery of material and its digital documentation will result in highly efficient reconstruction.
---
Reconstruction offers an opportunity to build with the most modern construction techniques to build efficient "Green" structures that preserve the beauty of the former architecture while eliminating the enormous energy and other costs of maintaining the home. One of the crucial technologies is the use of Insulated Concrete Form (ICF) construction of the internal framework. The Kemper Castle was rebuilt in Texas with ICF.
Videos on ICF Construction -- Here are videos that describe the technology.
ICF Construction Advantages & Costs
More ICF Fast, efficient, cost effective and smart.
How to build a sustainable home
---
Telephone (800) 392-2421

Office (513) 376-6235

Cell (513) 212-8496
Office Hours ... 3pm - 9 pm
We would enjoy hearing from you by phone or email.

Electronic mail Info@ResErections.com
---
Visitors frequently refer endangered worthy houses to ResErections. If you would like to recieve our monthly newsletter please Subscribe here.
---

This Site has been active for 15 years.