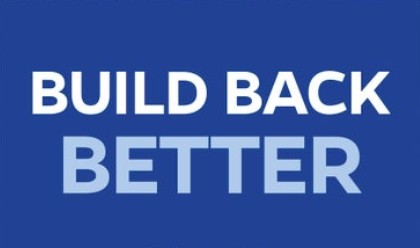 Preserving the Magnificent
This fine architectural art can be saved. Its site is being redeveloped. It must be disassembled or demolished in the next few months. Act Now !
---
Broken Greek Revival Pediment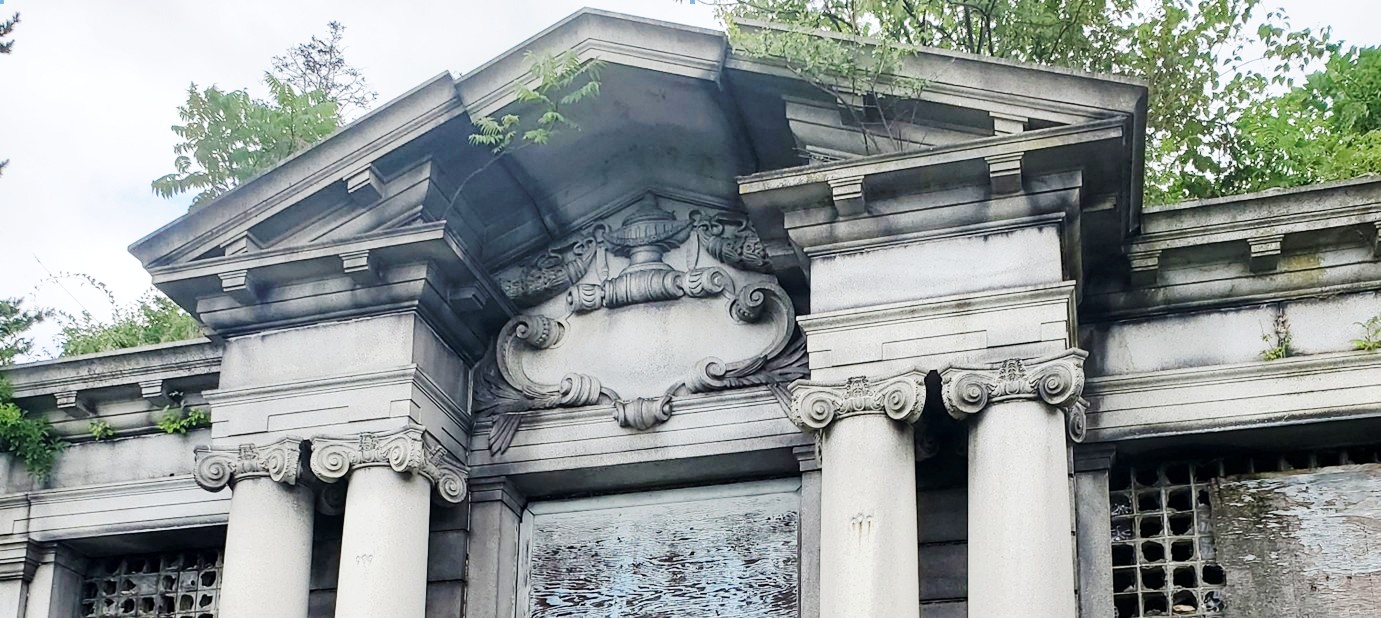 $ 450,000
This 100 year old endangered Classic Ionic Order Broken Greek Pediment is imminently in danger of demolition and the landfill. Solid Granite. Unique and very valuable classic architectural art. It would make an impressive front entrance of law, financial, or retail organizations. It would be fine outside, but it is of high enough quality, fit and finish, to grace the halls of a World Trade Center or Chicago Merchandise Mart.
Patterned after an ancient Greek temple ... The Parthenon ... built in 447 BC. … 2,500 years old. Pre-Rome ... Pre-Christ.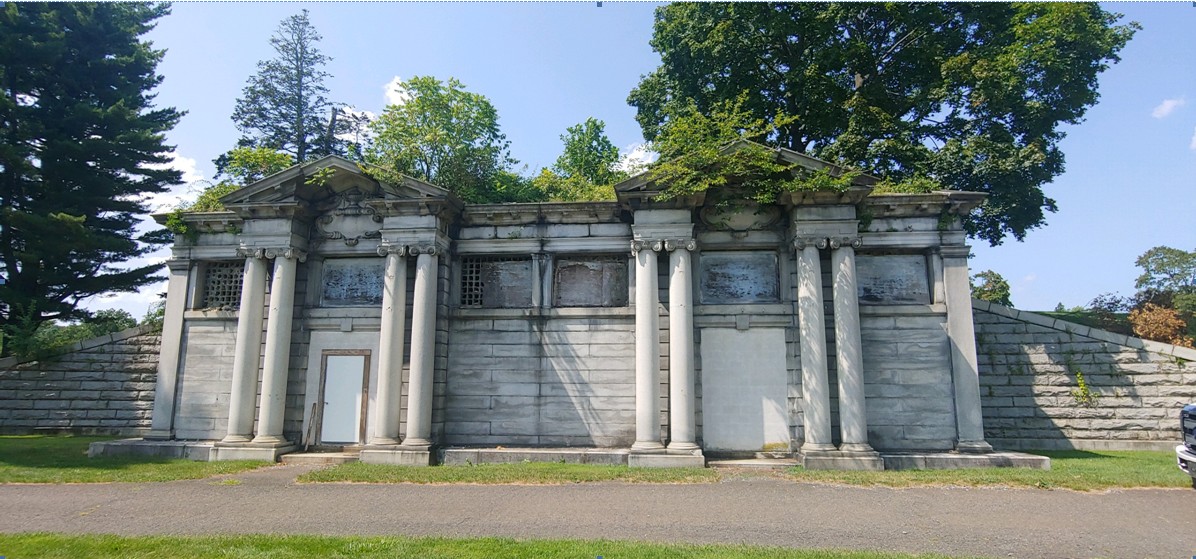 It is going to be disassembled or demolished soon. It can be split into two 35 ft wide independent segments, each with a pediment bracketed by 4 Ionic columns. The building is 70 ft wide and 16 ft deep, with the Pediment rising to 24 feet. The wing walls are 40 feet. Each 1 foot thick facing stone is 1,000 lb. Pillars and columns are 3,000 pounds.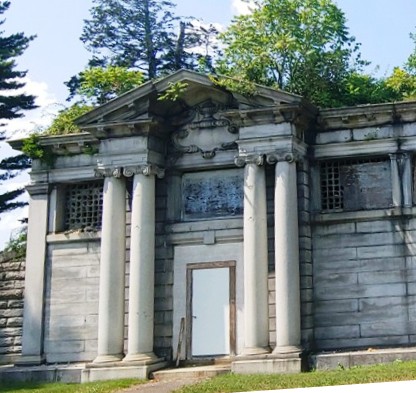 There are two formal broken archways. Each 35 ft section could have a different application and buyer, and be moved to a separate site. Each pediment could serve as the facade of a retail or professional establishment.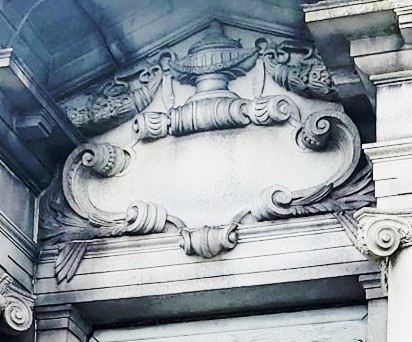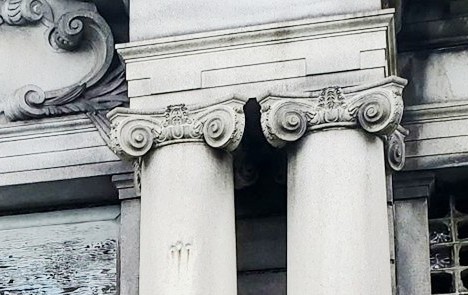 The scrolled decorative tympanum is ready for the owners name ... like Tiffany, Armani, Cartier, Chanel. Columns crested by Ionic capitals show no sign of wear after 100 years of Pennsylvania weather. a mild chemical wash will reveal its uniform white color. The cornice, frieze, and architrave combine in a classicly proportioned entablature.
.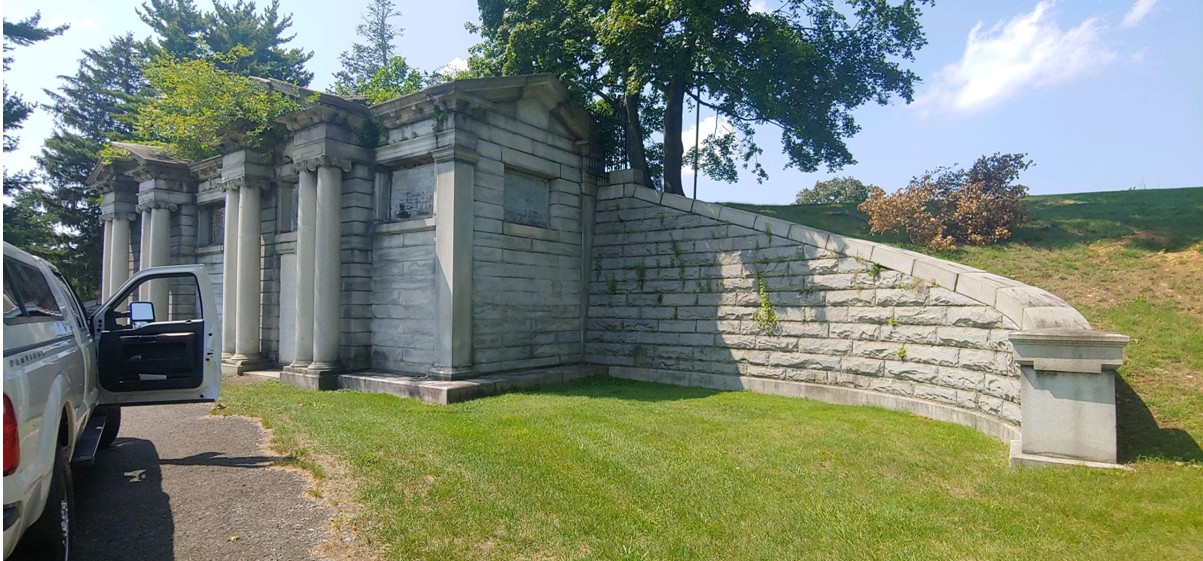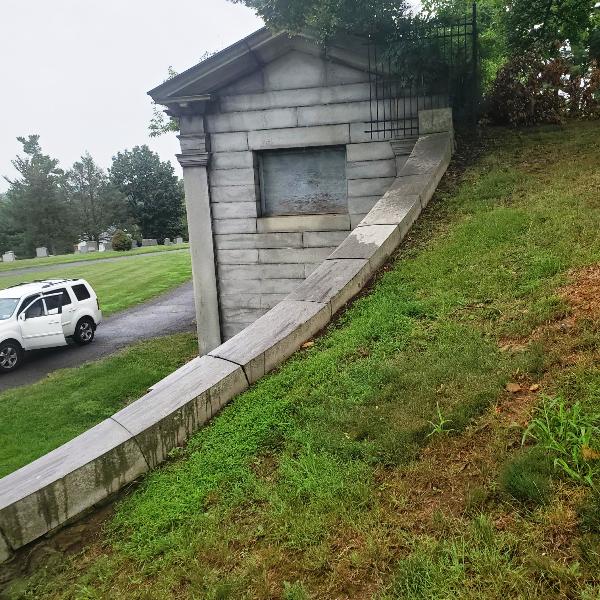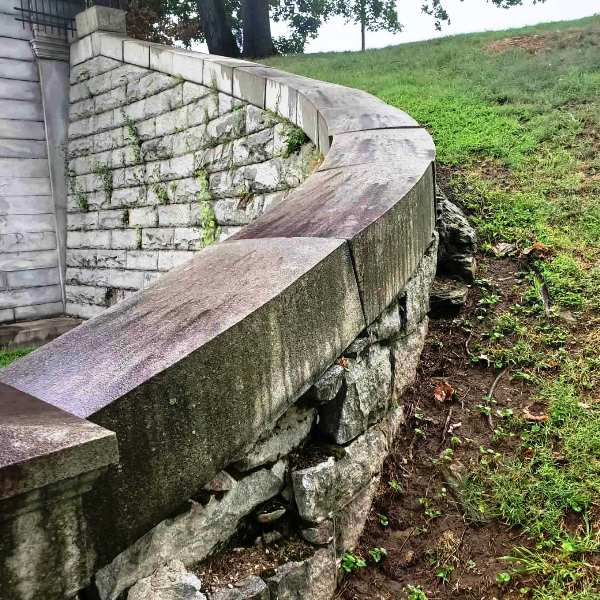 The wing walls are coursed rockfaced granite walls with beautiful capstones. Curved and polished, they would provide distinctive beautiful seating in the halls of office buildings, shopping centers, amphitheaters, and public venues.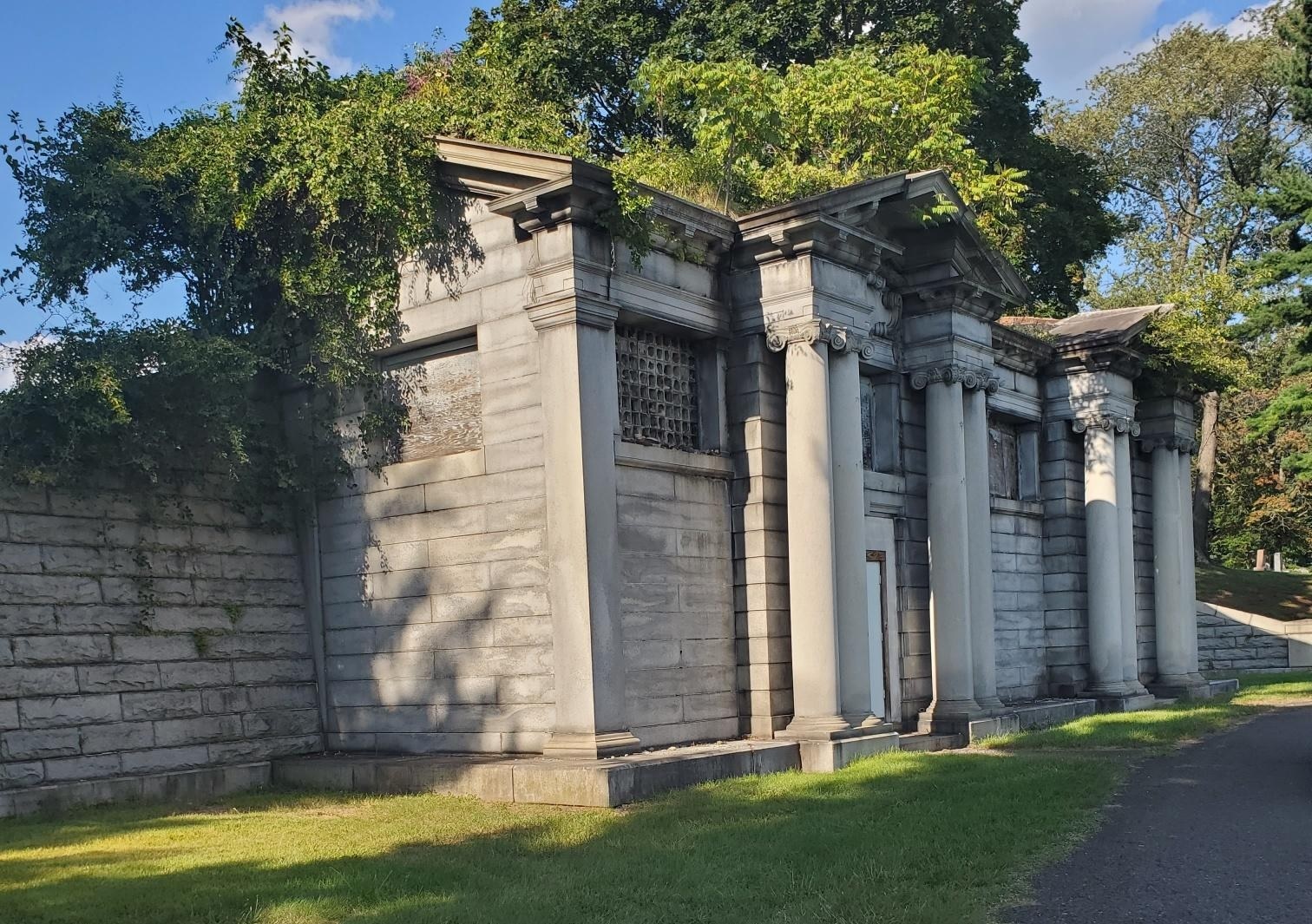 ---

ResErections, Inc. specializes in documenting, marketing, and disassembling architecturally unique endangered 19th century natural stone mansions that can be reconstructed on sites where the investment results in the creation of new real estate wealth. Buyers save endangered magnificent architecture from demolition and create a marvelous new modern structure. Endangered stone structures, statues, and monuments can be moved.
Recent developments in Laser Imaging and Measurement with accuracy within 1/7 inch, and AutoCAD and BIM - (building information modeling) architectural software and RFID item tagging (radio frequency identification) has made the difficult task of disassembly, relocation, and accurate reconstruction of buildings practical. We know how to keep track of the thousands of pieces in a fashion that allows their restoration in their original position with precision, and how to remove, package, transport, and deliver each at the time reinstalled.
Pricing ... What its value is where it is ... Its cost of moving ... What its value is where it could be. ROI's over 100%
---
Heavy Lifting
The Broken Greek will have many 1,000 - 3,000 pound stones. The wing wall capstones could be 5,000. Our recent experience disassembling the large Middletown Church with 600 tons of fine Limestone is excellent preparation for this disassembly project. We handle art stones weighing over 3,000 pounds.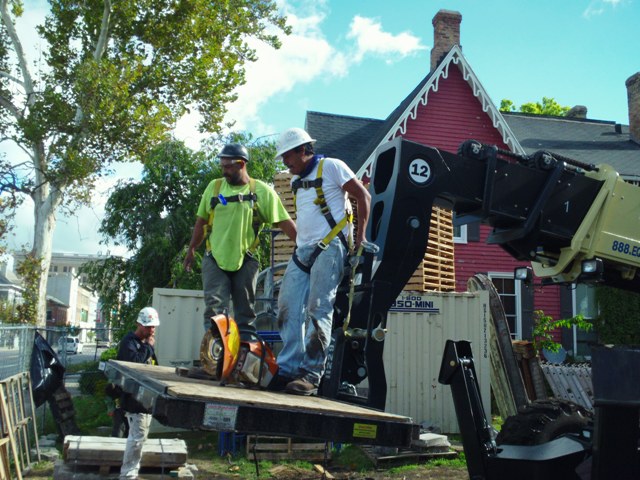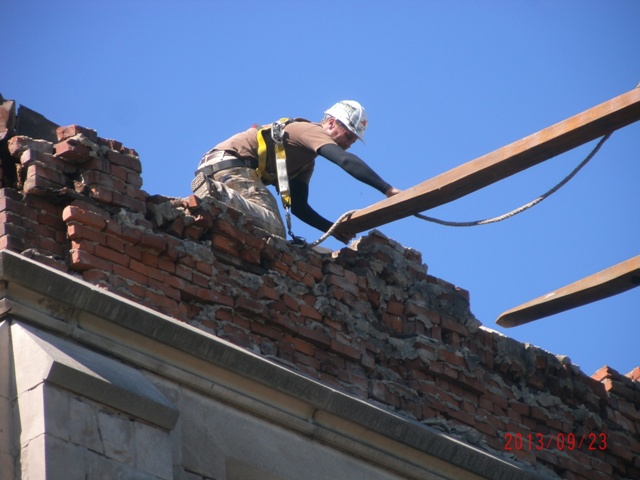 Using a JLG High Lift a solid platform, and experienced construction workers with safety gear, we use a hammer drill with a diamond bit to drill lifting holes in the top surfaces of the stone, install eyebolts, and lift each stone with a sling.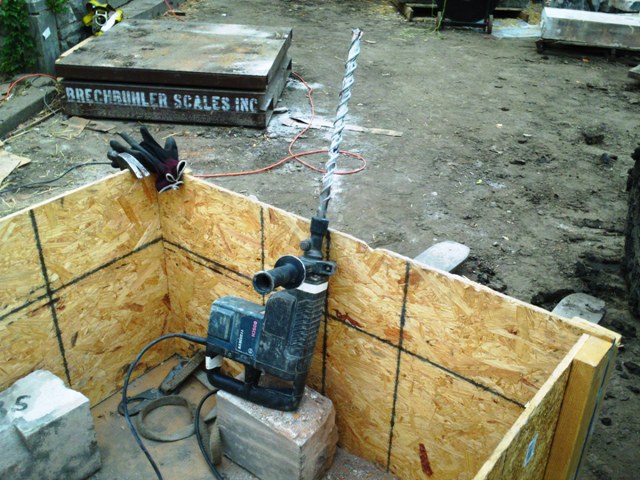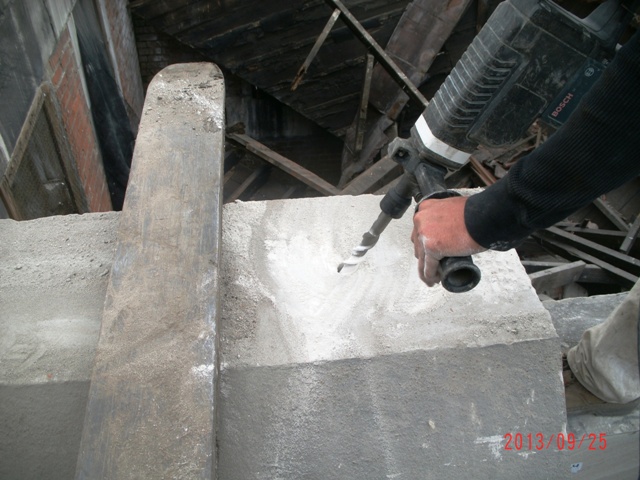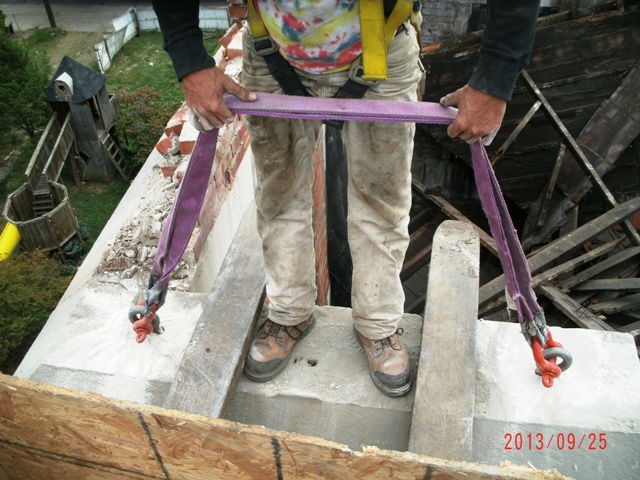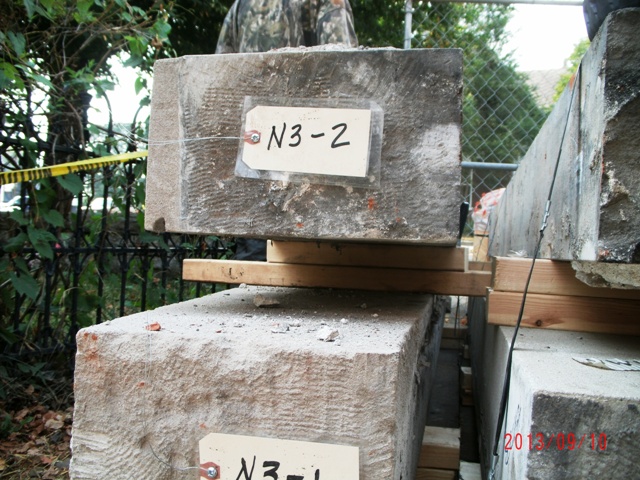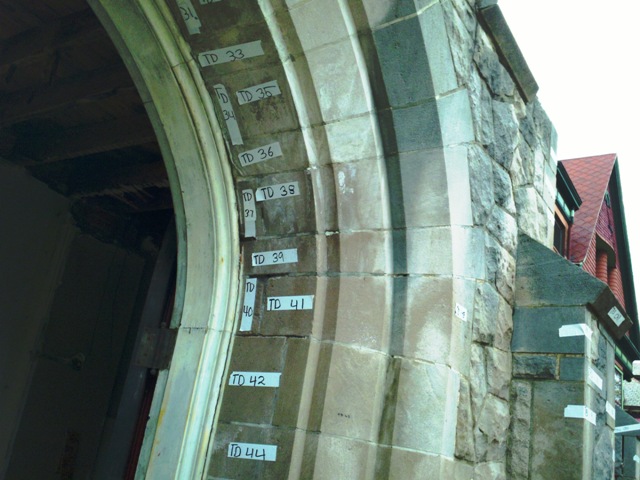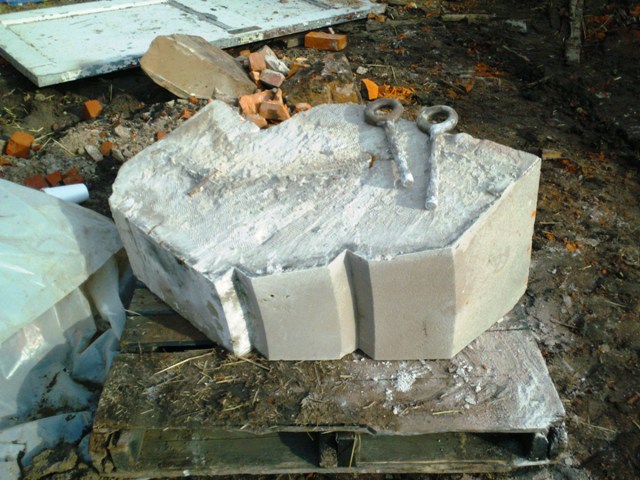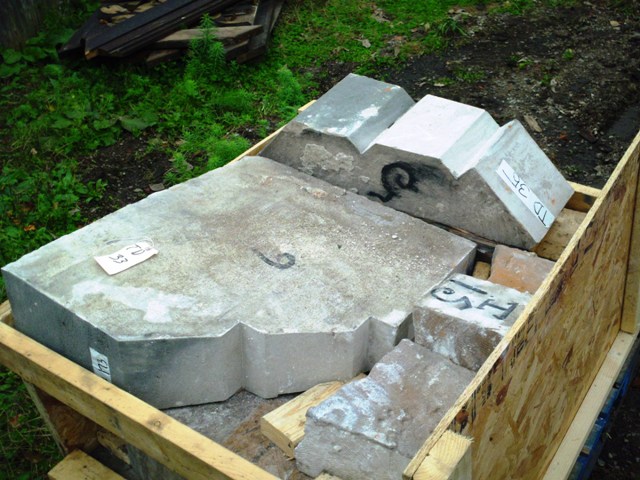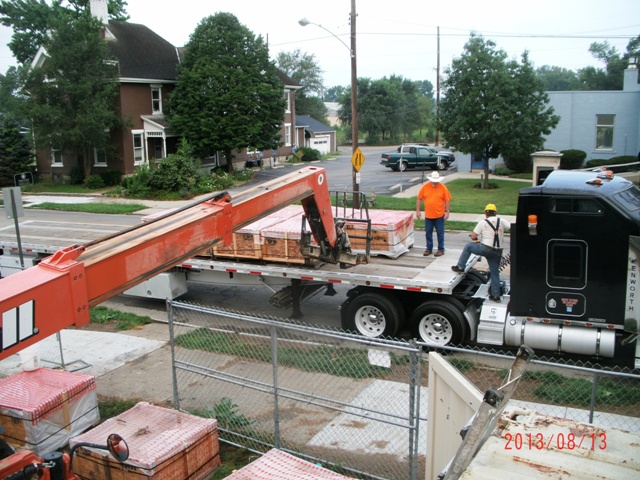 Stones are numbered when lifted and individually packaged on pallets to minimize damage in shipping. Long distance flatbeds deliver the pallets safely to the reconstruction site.
It will take 8 - 10 weeks to disassemble the structure. First, it will be laser scanned to get precise measurements. We photograph in detail and map the stones by number on the images. We install RFID chips in each pallet, listing each stone number. All of this data is stored in a Microsoft Access relational database hosted on the Internet, and available to project participants on their computers and smartphones. The immediate flow of detailed information is crucial to successful marketing, disassembly, and reconstruction by architects, engineers, and construction tradesmen.
---
We have several endangered Gilded Age Stone mansions for private sale and relocation. Romanesque, Queen Anne, Georgian Revival, Tudor, Beaux Arts, Second Empire, Colonial, and Federal. Prices
have not been pre-determined but will be in the area of $ 2 million plus. Interested parties contact us for information.
Office (513) 376-6235

Cell (513) 212-8496

Office Hours -- 3pm - 8pm
We would enjoy hearing from you by phone or email. Please leave messages if we miss you. Email is best.

Electronic mail nlm@ResErections.com

---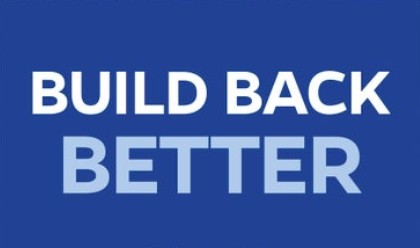 This Site has been active for 15 years.